St Alyre d Arlanc
Round and about St Alyre
---
The village of St. Alyre d'Arlanc is situated at an altitude of 860 metres toward the eastern end of the Massif Central mountain range. In the department of Puy de Dome, it can be found mid-way between Clermont-Ferrand and St. Etienne.
Almost at the heart of the Livradois-Forez national park, in an area of extinct volcanoes, it is one of the most naturally beautiful regions in all Europe for cycling, hiking, horseriding and motorbiking. It is popular with both french and foreign visitors. Big Map
There is no public transport (short of a taxi) for the 9 km journey from the village to the nearest towns of either La Chaise Dieu or Arlanc, except during the height of summer (late June, July, August and September) when the touristic railway train makes its daily 70 mile return scenic journey from Ambert, along the Dore Valley climbing up through the gorges of the Dore and making a short stop at the village of St Alyre on request.
There is a regular daily bus service connecting Arlanc to the cities of Thiers to the north and on to Clermont-Ferrand further west. From Clermont-Ferrand, the SNCF operates trains north to Paris and south to Marseilles on the Mediterranean coast.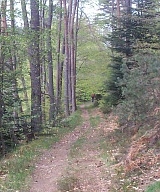 About 30 miles south of St. Alyre d'Arlanc, the town of Le Puy en Velay connects by SNCF to the city of St. Etienne and onward to Lyon. From Lyon you can find high speed TGV connections north to Paris and south to the Mediterranean